Queer Britain 1953-1988:
The Gay Community and the Straight Press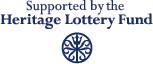 From November 2004 to December 2005 the Lesbian and Gay Newsmedia Archive embarked on a year-long outreach and cataloguing project, funded by the Heritage Lottery Fund, intended not only to encourage greater use of the archive but also to stimulate historical research within local communities around the country.
An outreach officer, Robert Thompson, was appointed to give Powerpoint presentations based on the archive to groups in the United Kingdom who could provide a venue and an audience.
Norena Shopland was appointed as part-time cataloguer. She identified appropriate regional material and worked with the volunteer team to reduce the backlog of uncatalogued cuttings in the collection.
---
Events in 2005 and early 2006
For the HLF-funded project, Tim Parry was appointed Project Manager, and Oliver Merrington LAGNA Webmaster. They both continued in 2006 in a voluntary capacity.
---
Seminar
An evening event organised by LAGNA:
Thursday 6 October 2005, from 7.15pm
The London Metropolitan Archives, 40, Northampton Road, LONDON EC1 0HB
Speakers:
Peter Tatchell: "Queer news through straight eyes - how the mainstream media filters news on LGBT issues"
Sue Sanders: "The experience of LGBT history month at the hands of the straight press"
Robert Thompson: "What a load of benders: the straight press does gay"
Many thanks to the following for listing this event:
---
Publicity for this Project included:
Gay.com UK, 15 December 2004
The Pink Paper, 17 September 2004
A LAGNA Press Release (as PDF)